Nalah and the Pink Tiger is about a rambunctious little girl who lives so intensely in her imagination that grown-ups view her as a troublemaker. Things come to a head when, in addition to all the exotic animals that Nalah has "placed" in the house, a pink tiger "follows" her home from the zoo and creates havoc.
I got this book in exchange for an honest review. And apart from my Homeschool Reading Corner, I've never reviewed a children's novel on the blog (I think... I could be wrong). I've got a middle grade novel under my belt and now a children's book. And I tell you what...
Nalah and the Pink Tiger
by Anne Sawyer-Aitch is one of the most vividly colored and imaginative books I've read to my 5 year old. I mean, who better to write a book this colorful than a stilt-walking puppeteer? The illustrations were done by the author and were definitely eye-catching and imaginative and just overall amazing.
Nalah and the Pink Tiger
catches a child's imagination perfectly. From the animals that inhabit the house to the tiger that eventually follows Nalah home from the zoo (and causes quite a bit of chaos in the process). Unfortunately, Nalah is the most imaginative of her family which, according to her, means no one else can see the animals swinging from the chandeliers and hiding in the sock drawer, so she gets blamed for their random shenanigans all the time.
Immediately upon my finishing reading the book to my daughter who stayed home sick from school, she grabbed it right up and began reading it herself. Then she searched the house high and low for paper so that she could recreate the story once she was done.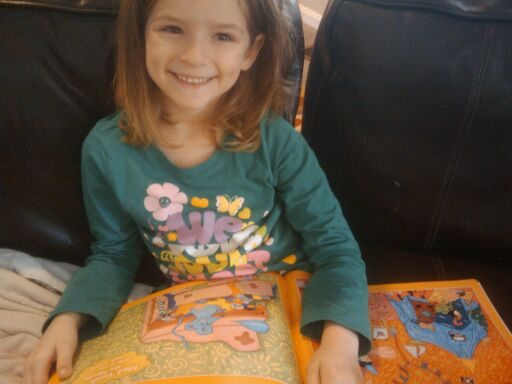 She has now told me she's going to be an author. If only I could always find books for my kids that inspire them this way.
I definitely recommend it as a read for anyone with young children. Or for adults who still have the imagination they did when they were little. It will appeal to both in my opinion. What a wonderful read. I hope your children enjoyed it as much as my little girl did.