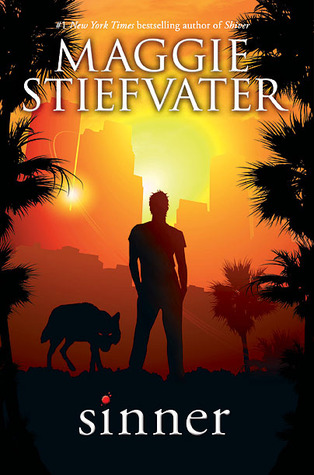 found.
Cole St. Clair has come to California for one reason: to get Isabel Culpeper back. She fled from his damaged, drained life, and damaged and drained it even more. He doesn't just want her. He needs her.

lost.
Isabel is trying to build herself a life in Los Angeles. It's not really working. She can play the game as well as all the other fakes...but what's the point? What is there to win?

sinner.
Cole and Isabel share a past that never seemed to have a future. They have the power to save each other and the power to tear each other apart. The only thing for certain is that they cannot let go.
Ok, so I finished
Sinner
by Maggie Stiefvater almost 3 weeks ago but I was putting off actually getting online and typing up a review because I am exhausted. Well, I'm less exhausted now than I was before... but still. So, sorry there hasn't been much activity on the blog as of late.
I was super stoked when I heard
Sinner
was coming out. I loved the
Wolves of Mercy Falls
series and I was so sad when it was all over. I was even more stoked when I learned that this one would be following Cole and Isabel. I love the Grace/Sam story with all my heart, but I wanted to know where Cole's story went.
Cole has gone to Los Angeles to find Isabel. In the process he's also supposed to be filming some kind of reality show and making a new record with a new band. Or at least, mostly new. Isabel is happy to see him, and she isn't happy to see him at the same time. She doesn't want to fall in love with him because she doesn't want to be hurt and she thinks that Cole is definitely the kind of person who is going to hurt her.
I have to admire Cole and his persistence. And the fact that even in the face of blatant temptation he didn't let his former addiction overcome him and cause him to undo all of the things that he's accomplished since becoming a wolf. I loved his carefree attitude and I loved being able to just be inside his head. He was trying so incredibly hard with Isabel.
Isabel kind of ticked me off a bit, but then I had to remember that she was putting up with a lot when it came to Cole's reality show. A lot that she didn't really have to put up with at all. And she was doing so quite well for the most part. I cut her some slack even though a few things she did still irritated me. Like insisting that Cole was doing things he shouldn't without really giving him a chance to plead his case.
She'd put up a wall though. One that she wasn't sure she wanted to put down for Cole. Well, in a way, she desperately wanted him to bust right through it and sweep her off her feet and carry her off in to the sunset with his mustang... but the rational part of her wanted to keep the wall in place because the lifestyle he was accustomed to (and she wasn't) was one that normally would have lead him to tear her heart to pieces and leave her broken on the ground. He had to prove himself. Over and over again. And I think he did that with flying colors. I love Cole. I really do.
And it doesn't hurt that when I read his chapters I hear Dan Bittner's voice in my head.
This was a great installment in the series. A definite deviation from the normal back and forth between Sam and Grace and their sort of ... innocence. Both Cole and Isabel are world weary and tired of the phoniness of people and the hurt they've gone through where as Sam and Grace were full of hope. Cole and Isabel hold each other up, though. They kind of find a new strength in each other and it makes the world not seem as bad.
If you've read the rest of the series, you should absolutely pick this one up. It's a fantastic read.