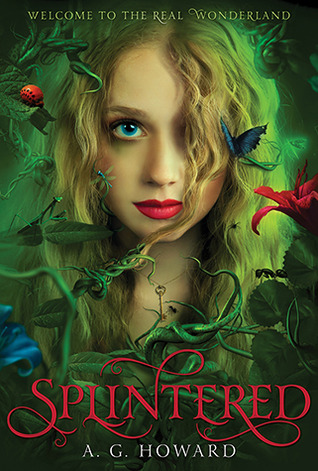 This stunning debut captures the grotesque madness of a mystical under-land, as well as a girl's pangs of first love and independence.

Alyssa Gardner hears the whispers of bugs and flowers—precisely the affliction that landed her mother in a mental hospital years before. This family curse stretches back to her ancestor Alice Liddell, the real-life inspiration for Lewis Carroll's Alice's Adventures in Wonderland. Alyssa might be crazy, but she manages to keep it together. For now.

When her mother's mental health takes a turn for the worse, Alyssa learns that what she thought was fiction is based in terrifying reality. The real Wonderland is a place far darker and more twisted than Lewis Carroll ever let on. There, Alyssa must pass a series of tests, including draining an ocean of Alice's tears, waking the slumbering tea party, and subduing a vicious bandersnatch, to fix Alice's mistakes and save her family. She must also decide whom to trust: Jeb, her gorgeous best friend and secret crush, or the sexy but suspicious Morpheus, her guide through Wonderland, who may have dark motives of his own.
Yay for book birthday presents!
Splintered
by A.G. Howard is a book that I've been wanting to buy for a long time but for some reason kept putting it off. Until my birthday last month. Thank you to my husband for buying it for me.
First of all, the cover art is absolutely stunning. And I probably would have gotten it based on that alone (yeah I know you're not supposed to judge a book by its cover, but I can't help it), but the premise of the story was pretty interesting as well. I don't need to say much in summary since the book blurb thingy pretty much sums it up.
Alyssa is kind of morbid. But for good reason when you find out that she hears bugs and plants talking to her. Her mother is in a mental facility and she really doesn't want to end up there too so in an effort to silence the voices she turns bugs into art. She's got a pretty groovy sense of style. From synthetic dreads to tutu-like skirts to ass-kicking boots, but all of it is to try and squash any resemblance to her mother. She's got a lot of internal battles going on and, in this story, definitely a lot of external foes to fight as well, but she is courageous and strong and is determined to fix things her great-great-great grandmother messed up to free herself and her mother from the curse she believes she's inherited.
Jeb is, at first, the annoyingly intrusive but protective big brother to Alyssa. Butting in to her life and conspiring with her father to keep her "safe" and look out for her. Which is what big brothers are supposed to do. But he's something much different to Alyssa and is seemingly completely ignorant of it until their journey through the looking glass and in to Wonderland. Although, his appearance there is quite by accident. He's chivalrous and charming and everything you think a strong protector would be. He's prepared to sacrifice everything for Alyssa, even though she doesn't need him (or want him) to.
Morpheous was hard to pin down for me. The mysterious childhood friend of Alyssa's is both seductive and enticing while being suspicious and conniving at the same time. Dangerous combinations. His stated motives for bringing Alyssa to Wonderland and his actual motives are not exactly in line with each other, something Alyssa finds out too late. But while his intentions aren't exactly pure, he does care for Alyssa. So, there's a bit of redemption for him in that at least.
This story was kind of Tim Burton-esque for me. It was more like what I imagined his movie version of Alice in Wonderland should have been. The creatures were absolutely hideous and grotesquely wonderful and seeing all the characters in true form (the "Mad Hatter" was one of my favorite) was lovely. Nostalgic and yet... not. Old friends but complete strangers at the same time. We find out that the descriptions given by Carroll of Alice's adventures in Wonderland was very skewed and incredibly tame compared to the actual inhabitants of that world.
I loved the book. And I can't wait to read the next one. If you like "re-tellings" (although this wasn't a re-telling per se, it was more a modern day continuation), you should definitely grab this and give it a read!