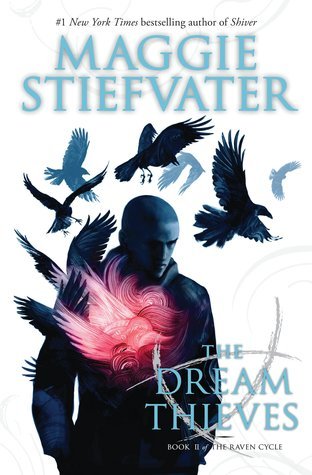 Now that the ley lines around Cabeswater have been woken, nothing for Ronan, Gansey, Blue, and Adam will be the same.

Ronan, for one, is falling more and more deeply into his dreams, and his dreams are intruding more and more into waking life.

Meanwhile, some very sinister people are looking for some of the same pieces of the Cabeswater puzzle that Gansey is after...
I read
Dream Thieves
by Maggie Stiefvater a while ago, but after much procrastinating, am finally putting up my review. My procrastination had nothing to do with the book. The book was phenomenal. I just haven't been really in the mood to write reviews. I've been reading... just... not reviewing.
But I digress.
So I loved book one in the
Raven Cycle
,
The Raven Boys
. I was very excited to start reading this one. I was definitely not let down.
Of course, it continues Gansey's quest to find the fabled "sleeping" King and Ronan's brooding and being angry-but-sometimes-a-nice-guy, Adam's insistence that he do everything for himself, and Noah being... well, dead. Blue finds herself trying to figure out a way to tell Adam she doesn't love him while trying to decide whether or not what she's feeling for Gansey IS love. She's not sure.
Then, there is the addition of The Gray Man. A man that I wanted to hate, and for good reason. At first. But the more I read from him and the more he interacted with Blue and her mother and just everyone in her circle in general, the less I disliked him. I found myself enjoying his part in the story, even if it wasn't a happy one.
This installment creeped me out. Severely. I mean, who wouldn't be terrified if they woke up from a nightmare having accidentally pulled their nightmare out of their sleep with them? Kind of like Nightmare on Elm Street, but way more disturbing. The pictures that the descriptions of Ronan's nightmares brought to mind was horrifying in a way that made me not want to read the book at night. But I was also fascinated at the thought that, if he tried hard enough, he could literally bring to life anything he wanted right out of his own mind.
The relationship between Noah and Blue I thought was sweet. They're like, childhood best friends. Which I think was good for Blue with the changes going on in Adam. She needed someone that didn't expect anything from her and wouldn't be able to hurt her in any way.
I liked this book because it kind of makes me wonder if there isn't some truth behind it, ya know? Don't they say that all fiction is based in reality? How awesome would it be if there really was some ancient king hidden somewhere in Virginia. Or if there really was a place like Cabeswater where you could wander through for hours and come out having only been gone for a few minutes.
However, I would STILL love to know what a Henrietta accent sounds like. I've lived in VA 99% of my life and I know what an Appalachian accent sounds like, a southern accent, no accent at all (even though people still insist that I have one), and God knows how many other accents. The Henrietta accent is mentioned so much that I would love to know what it's supposed to sound like.
Does that make me weird?
Anyways, great book. Super dark and ominous (and creepy!) but great. If you read the first installment, I suggest you give this one a go! I can't wait to read book three!