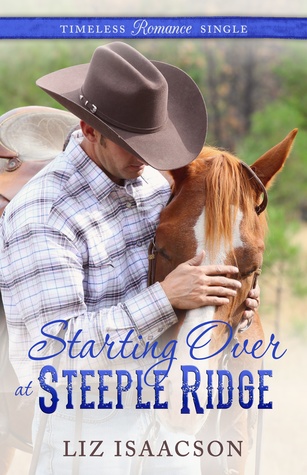 Tucker Jenkins has had enough of tall buildings, traffic, and business meetings to determine the next app that will change the world. He's sold his technology firm for billions and traded it for Steeple Ridge Horse Farm in rural Vermont.

Missy Marino has worked at the boarding stable and farm since she was a teen, and she's always dreamed of owning it. But her ex-husband left her with a truckload of debt, making her fantasies of owning the farm unfulfilled.

When she meets Tucker, she starts having a new kind of fantasy—one where they work with the horses together. Tucker didn't come to the country to find a new wife, but he supposes a woman could help him start over in Steeple Ridge. Will Tucker and Missy be able to navigate the shaky ground between them to find a new beginning?


Sometimes I love romance novels. They're a nice break from what I usually read. So when I saw the description for
Starting Over at Steeple Ridge
(and let's face it, the cover got me too) by Liz Isaacson, I didn't think I could pass it up.
Missy had to say goodbye to her friend and mentor and, she thought, any dreams of owning the farm she's ridden/worked at for two decades. A city boy has swooped in and purchased the farm, sight unseen, and now she's working for him. Tucker, the city boy, really had no idea what he was getting himself into when he bought Steeple Ridge but he's definitely out of his element in the Vermont country.
*
I enjoyed both main characters. But unfortunately I felt like I didn't really get to know them. Even when they were getting to know each other it seemed like it was only ever skimming the surface. Neither was too interested in telling the other about their past and we didn't really see a lot of development in them individually.
Don't get me wrong, I did like the story. But I felt like it was incredibly rushed. Their was no fleshing out of their relationship. First they didn't like each other.... then magically (and very suddenly) they did. I understand that stuff like that happens... but it didn't really make sense in the book for me. Like I said, everything seemed to only skim the surface. All the other reviews that I've read said it was a short, simple and sweet romance novel... and they're 100% correct. It was all of those things. I just wish there had been more to it.
With that being said, again, I did enjoy it. Despite what I've mentioned above. I love horses. I love the country. And I would give anything to have been in Missy's position (working on a farm... not the falling in love with a billionaire city man). The small town feel and the friendliness of the people in Missy and Tucker's life is something I've desired in my own life.
Tucker was the gentlemanly, chivalrous cowboy type even before he was a gentlemanly, chivalrous cowboy. And Missy was dedicated and passionate and I could completely understand her feelings toward the farm and her horses. The two of them made a wonderful pairing, I only wish I had seen more buildup to the relationship.
If you're looking for a clean, easy, quick read this is definitely for you. If you love the country and/or horses then this is for you, too. If you are looking for a book you can sit out on the back porch and read while you drink tea or coffee, grab this one. It's a very lighthearted and sweet read.