Romance is in the air during the fall wedding season in the Amish community of Cedar Creek. But while one loving couple prepares to tie the knot, Amanda and Wyman Brubaker's large family faces a threat from outside their happy circle...and must learn to pull together.

Recently wed Amanda and Wyman Brubaker are thrilled that their children from previous marriages have blended together to form a strong family. But when the construction of Wyman's new grain elevator is delayed, making the project more expensive than anticipated, Amanda's determination to rally the kids into taking on work to improve the family's finances comes into conflict with Wyman's sense of responsibility as head of the household....

Meanwhile, as James Graber and Abby Lambright prepare for their long-awaited nuptials, folks gather from far and wide. Amanda's nephew Jerome has long been smitten with James's sister Emma and wants to seize this chance to woo her. But Emma's been burned once and is twice shy of trusting the fun-loving, never-serious Jerome. As Emma and Jerome struggle to understand each other, and find the courage to make a leap of faith, the Brubakers face a bigger challenge than they first anticipated and begin to discover just what it means to fight...the Amish way.
Emma Blooms at Last
by Naomi King, book 2 in the
One Big Happy Family
series, is such a lovely book. And lovely is not a word I generally use. But there's not many better ones to pick from.
I love these novels. Reading about Emma and Abby and Wyman and James and Jerome and Amanda and ALL of the Cedar Creek gang... it always makes me wish I was a part of it.
We get to visit Amanda and Wyman again, a little bit of time after they've been married now. They're settled in and pretty well adjusted to their new lives together. Except... Wyman is having trouble with the contractor he's hired to build his new grain elevator. This new contractor does NOT have the work ethic (or the morals and values) of his predecessors, and it's costing Wyman more than expected to get the job done. The more money Wyman pays, though, the less his family has to make it through the winter.
Love is definitely in the air. Abby and James are getting married and couldn't possibly be more caught up in each other. Marrying James, however, means that Abby has to quit work. And without Abby, Sam is finding the Christmas season a bit hard to handle at the store.
Emma is busy lamenting the loss of the man she thought she was made for (he married Rosemary Yutzy from
Rosemary Opens Her Heart
). Too busy at first to really be interested in the extremely obvious eyeballs that Jerome keeps making at her. But he is not easily deterred. And soon, Emma can't remember why she tried so hard to ignore him.
As always, I read these books and they make me want to be a better version of myself. I'm not sure how to explain that so it makes sense, so I won't try.
I love how, even though these books could work as stand-alones and it's technically a separate series from
Home at Cedar Creek
, all the characters are familiar. They're like friends and family come home again after a short time away. It's like the stories suck you in and sit you down in the living room of one of these families with a nice warm, hand quilted blanket and make you comfortable.
They give you a peek in to the Amish community and lifestyle in a way thats light and inviting and the romance isn't overbearing like it is in a lot of novels. Although there were some parts where I wanted to shake Emma and just yell at her to stop being so stubborn.
You really get to see how much everyone cares about everyone else. And how willing they are to change their entire lives around to accommodate and to help. They make it a point to find what someone is good at and then they help them to accomplish all that they can in that particular field or with that particular craft.
As a matter of fact, after reading this book I picked my crochet hook back up and gave crocheting hats another go. I generally stick to loom knitting, but you can only do so much with that. I'm excited about making my hats and scarves and everything again. Because there's so many new ways to do it that I NEVER would have ever tried had it not been for reading this story.
I can not say enough wonderful things about this series and all of the others by Naomi King. PLEASE do yourself a favor and read
Emma Blooms at Last
. I promise you won't be sorry that you did.
*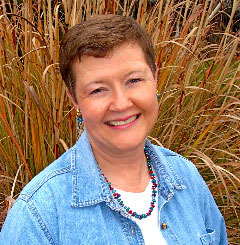 Drawing upon her experiences in Jamesport, the largest Old Order Amish community west of the Mississippi, longtime Missourian Naomi King (a.k.a. Charlotte Hubbard) writes of simpler times and a faith-based lifestyle in her new Seasons of the Heart series. Like her heroine, Miriam Lantz, Charlotte considers it her personal mission to feed people—to share hearth and home. Faith and family, farming and food preservation are hallmarks of her lifestyle, and the foundation of her earlier Angels of Mercy series. She's a deacon, a dedicated church musician and choir member, and when she's not writing, she loves to try new recipes, crochet, and sew. Charlotte now lives in Minnesota with her husband and their border collie.
Publisher: NAL (Penguin Group)
Release Date: November 4, 2014
Genre: Inspirational Romance/Amish Romance
Length: 315 Pages
ISBN: 978-0451417886
ASIN: B00INIJJA8

Add to Goodreads

Buy Hard Copy: Amazon | B&N | Books-A-Million | Chapters | Book Depository | IndieBound | Powell's

Buy E-Book: Kindle | Nook | Kobo | iBooks
a Rafflecopter giveaway